Meet Endodontist Dr. Sonia Chopra, D.D.S.
DIPLOMATE, AMERICAN BOARD OF ENDODONTICS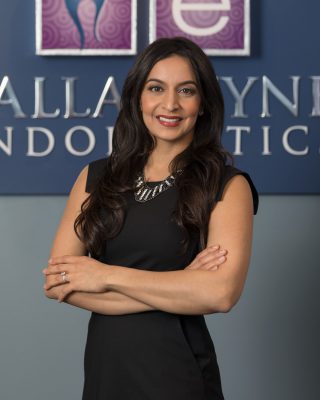 Hi, I'm Dr. Sonia Chopra, D.D.S., tooth saver extraordinaire and founder of Ballantyne Endodontics. Before I was an endodontist, I was in the patient's seat.
I was the ultimate dental patient. Born missing eight teeth, as a child I ran the gamut of dental procedures. From fillings to root canals, extractions to implants, braces to veneers: you name it, I sat in a chair for it. So trust me when I say I understand what you're going through right now!
During my college years, I began experiencing a new and excruciating tooth pain. Neither my general dentist nor my specialists could identify where it was coming from. Following a misdiagnosis, my general dentist referred me to a specialist for an extraction. After the procedure, my tooth was gone, but I was still in the same, terrible pain. It turns out they had pulled the wrong tooth. It's not like they grow back! Now I was down nine teeth!
I was losing hope until I was finally referred to a compassionate endodontist. Not only did he make the correct diagnosis, save my infected tooth, and relieve my pain, but he also explained and educated me on what was happening every step of the way. It was such an incredible experience that it inspired me to become an endodontist myself.
I earned my D.D.S. at the University of Maryland, and completed two residencies in Brooklyn, New York (which gave me the added benefit of introducing me to my husband!) and Fort Lauderdale, Florida. When I began treating patients, I discovered my tooth story wasn't as unique as I thought. I saw the same issues appear in my patients over and over again. I knew then that I needed to dedicate my practice to saving natural teeth.
So I opened Ballantyne Endodontics in Charlotte, North Carolina, and became a Board-Certified endodontist—an accomplishment that less than 15% of endodontists in the country can claim. I'm especially proud to say that I was the first woman to be board-certified as an endodontist in Charlotte. I am also the author of Tooth Wisdom, a digital book for patients to help you become empowered regarding your oral health.
As an endodontist, I'm a diagnostician and technician for my patients. But my history as a patient makes me even more than that. I see myself as my patients' dental health counselor and advisor. Just like the endodontist who treated me, I make sure to take extra time with you to ensure that I understand your symptoms. I walk you through my recommendations for treatment and everything you can expect, so you can be empowered, knowledgeable, and calm throughout the course of your treatment.
I also believe in sharing my knowledge with the dental community to ultimately serve patients better. That's why I created E-School, the first online endodontics course of its kind designed for general dentists. I also spent 13 years teaching dental residents at my local medical center, and these days, I regularly speak at professional events. In fact, I gave my first TEDx Talk in 2021. I'm also co-founder of A Night For Smiles, an annual gala that brings dentists in the Charlotte area together to support nonprofit dental health initiatives.
When I'm not treating patients or educating general dentists about endodontics, I love to travel and spend time with my husband and three beautiful children.
DR. CHOPRA'S TEDx TALK: MODERN DAY ROOT CANALS: SAVING TEETH WILL SAVE HEALTHCARE
DR. CHOPRA WAS FEATURED ON CHARLOTTE TODAY IN MAY 2017, TO PROMOTE ROOT CANAL AWARENESS WEEK:
Dr. Sonia Chopra was featured on Spectrum News 1 to promote Save Your Tooth Month
Learn more About Dr. Chopra, endodontist
EDUCATION
D.D.S.: University of Maryland Dental School
Residency (General Practice): Long Island College Hospital, Brooklyn, NY
Residency (Endodontics): Nova Southeast University, Fort Lauderdale, FL
CONTINUING EDUCATION
South Charlotte Study Club (2008-present)
Outer Loop Education Study Club (2012-2016)
Spear Education Study Club (2018-2021)
EXPERIENCE
Private Practice (Ballantyne Endodontics), Charlotte, NC (2008-Present)
Teaching Position: Carolinas Medical Center, Main Campus (2008-2021)
Private Practice (General Dentistry), Manhattan, NY (2004-2006)
Credentials, honors, and memberships
Diplomate, American Board of Endodontists
Robert A. Uchin Endodontics Award for Excellence in Presentation, 2008
Member, American Association of Endodontists
Speaking events
2022

February 11: Sonendo Workshop ("Endodontics Practice Workshop: Observe, Apply and Achieve Results in Practice Efficiency and Profitability")
March 4: Star of the South Dental Meeting ("Management of Endodontic Emergencies: What Every Dentist Needs to Know" and "Endodontic Applications of 3-D Imaging")
March 11: Sonendo Workshop ("Endodontics Practice Workshop: Observe, Apply and Achieve Results in Practice Efficiency and Profitability")
April 9: AAE ("Put Time Back into your Life: Vision and Goal Setting for Practice Optimization")
June 17: Sonendo Workshop ("Endodontics Practice Workshop: Observe, Apply and Achieve Results in Practice Efficiency and Profitability")
August 19: Sonendo Workshop ("Endodontics Practice Workshop: Observe, Apply and Achieve Results in Practice Efficiency and Profitability")
September: Women in Dentistry Webinar ("Top Endo Struggles: Secrets to Reducing Your Chair Time")
September: Women in Endodontics Summit Retreat
September 15-17: Dentsply Sirona World
October 13-16: Mommy Dentists in Business Summit
October 20-22: EndoCon
December 2: Sonendo Workshop ("Endodontics Practice Workshop: Observe, Apply and Achieve Results in Practice Efficiency and Profitability")

2021

November 6: AAE Insight Track
October 14-16: EndoCon 2021
September 23-25: Dentsply Sirona World 2021 ("Managing Endodontic Emergencies" and "Endodontic Applications of Cone Beam Imaging")
September 10-11: The Super Clinical Summit ("Management of Endodontic Emergencies")

2020

November 27: Women Dentists Global Virtual Conference ("Managing Endodontic Emergencies")
October 8-20: TDO Scientific Session
April 23: Sonendo Sound Science® Academy Webinar ("Teledentistry – The Virtual Consultation for Endodontists")
April 14: Women in Dentistry Virtual Workshop ("Managing Endodontic Emergencies")

2019

November 14-16: AAE Insight Track ("Marketing Technology in Your Endo Practice")
July: Dentsply Sirona Key Opinion Leader Meeting ("From StartUp to Success – A Marketing Journey")
April: Mommy Dentists in Business Clinical Summit ("Endodontic Applications of Cone Beam Imaging")
April 10-13: AAE Annual Session ("Leveraging Technology for Practice Momentum")
February: Nova Southeastern University Alumni ("From StartUp to Success – A Marketing Journey")
Media
Websites
Periodicals and print
Podcasts
Video