Meet Endodontist Dr. Mark Tadrissi, DDS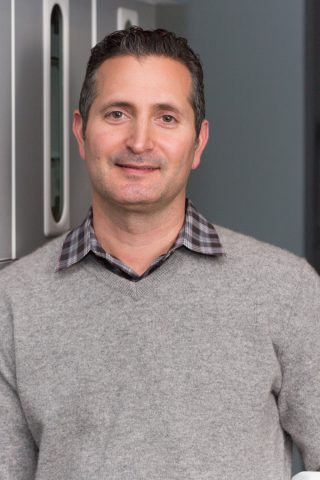 A native of San Diego, California, I always knew I wanted to work in the medical field. When I was an undergraduate at the University of California, San Diego, I discovered I liked working with my hands, and I realized I had a real passion for dentistry. I had always considered myself a problem solver, and knew I wanted to do the kind of work that could help relieve patients' pain. Dentistry would allow me to bring all of my interests and passions together.
After completing my residency at the University of the Pacific, I began my career as a general and cosmetic dentist, eventually opening my own private practice in Las Vegas, NV. Over the next decade, I honed my experience in the full range of dentistry—and managed to get married and raise a family, as well!
Throughout my years in dental school and as a general dentist, I found that I particularly enjoyed performing root canals. Around the time of the recession, and with the support of my family, I made the decision to sell my practice and go back to school to specialize in endodontics. We moved to Fort Lauderdale, FL, where I completed my second residency at Nova Southeastern University. When I met the like-minded Dr. Chopra and she offered me a partnership at her practice in Charlotte, NC, I jumped at the opportunity—and the rest is history!
Today, my specialty is bringing your natural teeth back to full health! I love working in endodontics, which gives me the opportunity to solve dental problems that are often hidden and go undetected without careful evaluation. But my deep understanding of general and restorative dentistry enables me to develop treatment plans that provide the healthiest and most secure foundation for dental restorations. I am dedicated to patient-centered care, and recognize that although I may specialize in one procedure, it is a unique experience for each person. After all, every person's mouth is unique, and every tooth in their mouth is unique! That's why it's so important for me to learn your tooth story, so I can treat you in the best way for you.
In my spare time, I enjoy spending time exploring Charlotte with my wife and three children. Some of my hobbies include cooking, traveling, and staying fit.
EDUCATION
D.D.S.: University of the Pacific, School of Dentistry, San Francisco, CA
Residency (Advanced Clinical Practice): University of the Pacific, School of Dentistry, Union City Clinic, Union City, CA
Residency (Endodontics): Nova Southeastern University, College of Dental Medicine, Fort Lauderdale, FL
Continuing education
South Charlotte Study Club
Experience
Private Practice (General Dentistry): Somerset Dental, Las Vegas, NV
Associate Dentist: Las Vegas, NV
Teaching Position: Advanced Clinical Experience Resident, University of the Pacific, School of Dentistry, Union City, CA
Teaching Position: Carolinas Medical Center, Main Campus
Credentials and honors
Member, American Association of Endodontics
Member, American Dental Association
Member, Charlotte Dental Society
Consummate Endodontic Resident, Nova Southeastern University, College of Dental Medicine, 2012
Best Dentist by Their Peers, Las Vegas Life Magazine, 2007
Top Dentist, Summerlin Magazine People's Choice Award, 2006, 2005, 2004
Provost's Honors, University of California at San Diego, 1992
Top Dentist, Charlotte Magazine, 2018, 2019, 2020, 2021, 2022
Appointments
Chief Endodontic Resident, Nova Southeastern University, College of Dental Medicine, Ft. Lauderdale, FL, 2011 – 2012
Student Mentor, University of Nevada, School of Dentistry, Las Vegas, NV, 2007 – 2009
Peer Review Mediator, Southern Nevada Dental Society, 2007 – 2009
Dental Services Donor, National Foundation of Dentistry for the Handicapped, 2005 – 2006
Meet Dr. Mark Tadrissi's colleagues