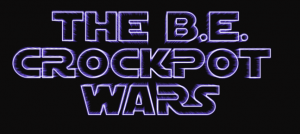 IT'S TIME FOR SOME FRIENDLY COMPETITION, AND YUMMY COMFORT FOOD TO GET US THROUGH THE WINTER!
We will each be whipping up a crock pot recipe and sharing with the group. We'll then vote, to crown a winner in our CROCKPOT WARS!
DARA'S SUBMISSION: SLOW COOKER CHICKEN NOODLE SOUP
INGREDIENTS:
8 

cups water or 8 cups canned chicken broth

1 

cup carrot, cut into 1/4-inch slices

1 

cup celery, cut into 1/4-inch slices

1 

cup onion, chopped

1 

garlic clove, minced

2 

bay leaves

1⁄2 

teaspoon dried thyme

4 

teaspoons salt (to taste)

1⁄2 

teaspoon fresh ground black pepper, to taste

1 

(3 1/2 lb) roasting chicken

3 

cups wide egg noodles, uncooked
DIRECTIONS:
In 4-1/2 to 6-quart slow-cooker bowl, combine water, carrots, celery, onion, garlic, bay leaves, thyme, 4 t salt, 1/2 t pepper.
Place whole chicken on top of vegetables.
Cover slow cooker with lid and cook as manufacturer directs on low setting 8 to 10 hours or on high 4-5 hours.
Transfer chicken to cutting board. Discard bay leaves. Add noodles to slow-cooker; cover with lid and cook (on low or high) 20 minutes.
While noodles cook, remove and discard skin, fat and bones from chicken; shred meat.
Skim fat from soup and discard. Return chicken to soup to serve.
SARAH'S SUBMISSION: SLOW COOKER CAJUN CHICKEN ALFREDO
INGREDIENTS:
3 Skinless, boneless chicken breasts
4 tsp of Cajun Seasoning
4 Tbsp Butter
1 Red bell pepper, chopped
1 Green bell pepper, chopped
2 CUPS Heavy cream
1/2 tsp Dried basil
1/2 tsp Lemon pepper
1/2 tsp Salt
1/4 tsp Garlic powder
1/4 tsp Ground black pepper
8 oz Pene Noodles
Parmesan Cheese for topping
DIRECTIONS:
Place chicken breasts in the bottom of the slow cooker.
Cover the chicken with the Cajun seasoning.
Add the rest of the ingredients EXCEPT the Penne Noodles.
Cook on high.
After about 2.5 hours, check the chicken. If it is cooked, shred the chicken.
Add the Penne noodles at this time.
Once the Penne noodles are fully cooked (about 30 minutes) it is time to serve.
Garnish with parmesan. Enjoy!
MARISSA'S SUBMISSION: CREAMY TUSCAN GARLIC TOTELLINI SOUP
INGREDIENTS:
2 Tablespoons butter
1 small white onion, diced
3 cloves garlic, minced
4 cups chicken broth
28 ounce can diced tomatoes
1 15 ounce can white beans, drained and rinsed
1 cup heavy cream
¼ cup grated parmesan cheese
1 Tablespoon italian seasoning
1 teaspoon salt
¼ teaspoon pepper
2 cups cooked and shredded chicken (I used rotisserie)
9 ounce refrigerated tortellini
2 cups spinach
DIRECTIONS:
In a large pot over medium heat, heat up the butter. Add onion and garlic and cook until tender. Add chicken broth, diced tomatoes, white beans, heavy cream, parmesan cheese, italian seasoning, salt and pepper. Bring to a simmer.
Add the chicken, tortellini, and spinach. Let simmer for 10 minutes to thicken up and for the tortellini to cook.
LUZ'S SUBMISSION: CROCK POT BEEF STEW
INGREDIENTS:
4 lbs of Chuck Roast, cut into bite size pieces
¼ cup of All Purpose Flour
3 Tbsp of Olive Oil
2 Onion, cut into bite size pieces
1 lb Potatoes, peeled and cut into bite size pieces
1 cup of Red Wine
5 Carrots, peeled and cut into bite size pieces
3 Stalks of Celery, cut into bite size pieces
4 Cloves of Garlic, chopped
¼ cup of Tomato Paste
3 1/2 cups of Beef Broth
1 Bay Leaf, dried or fresh
1 Tbsp of Fresh Thyme
1 Tbsp of Fresh Rosemary, minced
1 cup of Frozen but thawed Baby Peas
Salt and Pepper to taste
DIRECTIONS:
Add the oil to a large pot and preheat it over high heat until the oil is so hot that it starts to smoke a little.
Add the beef and season with salt and pepper, cook it for about 5 to 7 minutes or until seared well on all sides. Remove from the pan onto a plate and set aside.
To the same pan with add the onions, carrots, potatoes, garlic, and celery, season with salt and pepper and cook for about 5 minutes or until the veggies develop some color.
Add the flour and stir well, continue to stir wile cooking the flour for about 2 minutes. Add the wine and using a wooden spoon, scrape the pan to lift off all those browned bits.
Add the tomato paste and stir well, add the beef broth, the bay leaf and the thyme and rosemary and bring the mixture up to a boil. Add the browned meat back in and reduce the heat to low. Cover and cook for about 2 ½ hours checking on it periodically.
After 2 ½ hours, remove the lid and turn the heat up to medium high, taste for seasoning and adjust if you feel necessary, add the peas and cook for about 2 more minutes. Ladle up and enjoy!
MICHELLE'S SUBMISSION: SLOW-COOKER GENERAL TSO'S CHICKEN
INGREDIENTS:
4 boneless skinless chicken breasts, cut into one inch cubes
¼ cup cornstarch
1 tablespoon vegetable oil
½ cup hoisin sauce
2 T soy sauce
½ cup brown sugar
3 cloves garlic, minced
3 Tablespoons rice wine vinegar
1 teaspoon sesame oil
¼ tsp dry ginger
½ tsp crushed red pepper (more or less to liking)
Optional garnish, green onions, sesame seeds, additional red pepper flakes
DIRECTIONS:
In a mixing bowl add the chicken and cornstarch. Toss until the chicken is completely coated in the cornstarch. In a medium sized skillet over medium high heat add oil and cook the chicken until the chicken is lightly brown but not cooked throughout. Put in the bottom of a slow cooker.
In a small mixing bowl whisk together hoisin sauce, soy sauce, brown sugar, garlic, rice wine vinegar, sesame oil, ginger and crushed red pepper. Pour on top of chicken in the slow cooker.
Cook on low heat for 3-4 hours or until chicken is cooked throughout. *see note
Serve over rice and garnish with green onions, sesame seeds and red pepper flakes if desired.
NOTES:
If you are cooking the chicken without browning in the skillet first, when chicken is finished cooking, remove the chicken and add 1 Tablespoon cornstarch to the sauce. Add the chicken back to the crockpot and cook for an additional 15 minutes until the sauce thickens up. Chicken could also take longer to cook, closer to 4 hours. 
KAROLINE'S SUBMISSION: CHICKEN, SWEET POTATO, AND CORN SLOW-COOKER CHOWDER RECIPE
INGREDIENTS:
8 cups chicken broth
1 1/2 pound sweet potatoes, peeled and cut into 1/4-inch pieces (about 4 1/2 cups)
2 (1-lb.) bone-in skinless chicken breasts
2 cups fresh corn kernels (from 4 ears)
2 cups chopped yellow onion (from 2 onions)
1 1/4 cups chopped red bell pepper (from 1 large bell pepper)
1 1/4 cups chopped yellow bell pepper (from 1 large bell pepper)
1 cup chopped celery (from 3 stalks)
2 teaspoons kosher salt
1 teaspoon black pepper
1 cup heavy cream
5 tablespoons cornstarch
1/4 cup chopped fresh flat-leaf parsley
Hot sauce
Finely chopped chives 
DIRECTIONS:
Combine the first 10 ingredients in a 6-quart slow cooker. Cover and cook on HIGH until chicken and sweet potatoes are tender, about 4 hours.
Remove chicken from slow cooker. Coarsely shred, discarding bones; set aside.
Whisk together cream and cornstarch in a bowl until smooth; stir into soup. Cover and cook until slightly thickened, about 30 minutes.
Stir in chicken and parsley. Top with hot sauce and chives.
MELANIE'S SUBMISSION: SLOW COOKER BREAKFAST CASSEROLE
INGREDIENTS:
1 bag Frozen Hash Brown Potatoes (32 oz)
1 lb Bacon
1 Small Onion diced
8 oz Shredded Sharp Cheddar Cheese
1/2 Red Bell Pepper diced
1/2 Green Bell Pepper diced
12 Eggs
1 cup Milk
DIRECTIONS:
Cut bacon into small pieces, cook and drain (You could use precooked bacon to speed up the process).
In the bottom of a slow cooker, layer: half of the hash browns and half of the following: onions, bacon, green and red peppers and cheese. Repeat layers with the remaining ingredients ending with cheese.
In a medium sized bowl beat eggs and milk together. Pour egg mixture over the casserole and top with salt and pepper to taste.
Cook on Low for 6-8 hours (or high for 2 1/2 – 3 hours).  Enjoy!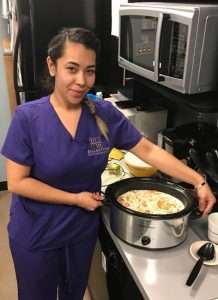 MARIELA'S SUBMISSION: SLOW COOKER CREAMY CHICKEN NOODLE SOUP
Serves 4-6 Prep Time: 5 minutes
Ingredients:
1 lb chicken breast, trimmed of fat
1 C yellow onion
1 C celery, chopped
1 C carrots, chopped
3 cloves garlic, minced
2 tsp salt
1 tsp ground black pepper
3/4 tsp dried thyme
1/2 tsp red pepper flakes, optional
2 bay leaves
4 C chicken broth
1 1/2 C heavy cream
1/3 C all purpose flour
2 C pasta
Directions:
To the bowl of a 5-6 quart slow cooker, add chicken, vegetables, seasonings, bay leaves and chicken broth. Cook on high for 4 hours, or low for 8.
When 4 hours are up, carefully remove and shred chicken. Return chicken to slow cooker.
Whisk together flour and heavy cream until smooth, stir into warm soup. Stir in 2 cups dry pasta. Cover and cook for an additional 20-30 minutes or until soup is thickened and pasta is cooked through. Serve immediately. 
DR. TADRISSI'S SUBMISSION: CROCK POT MEXICAN TORTILLA LASAGNA
Serves 8 – Prep Time: 20 mins  Cook Time: 2.5 hrs
Ingredients:
1 Tbsp olive oil
1 large onion, diced
1 Garlic Clove, minced
1 lb Lean Ground Turkey
1 Tsp ground cumin
1 Tsp kosher salt
1/2 Tsp chili powder
1 large egg, whisked
1/2 Cup sour cream
1 Cup Carrots, peeled and grated (about 2 carrots)
1 Cup frozen corn kernels, defrosted
1/4 Cup Cilantro, chopped
1 12 oz pkg. Corn Tortillas (12 Tortillas)
2 Cups Mexican Cheese Blend
2 16 oz Jar Mild Chunky Salsa
Directions:
Heat 1 tbsp of olive oil in a large sauté pan and cook the onions for 3 minutes. Add the garlic and sauté an additional minute.
Add the ground turkey meat, cumin, salt and chili powder and cook for 6-7 minutes until cooked through. Place turkey mixture aside and cool.
In a large bowl, whisk the egg and sour cream together. Add the cooled turkey mixture, carrots, corn and cilantro and mix to combine.
Spread 1 cup of salsa on the bottom of the crock pot.
 Layer 5 tortillas on top of the salsa, cutting them if necessary to fit the crock pot and covering the salsa completely.
Place half the turkey mixture on top of the tortillas and top with 1 cups of salsa and 1/2 cup of cheese.
Add another layer of 3 tortillas on top of the cheese. Pour the remaining turkey mixture on top of the tortillas and top with another 1/2 cup of cheese.
Top the lasagna with another layer of tortillas, pour the remaining salsa on top and cover with 1 cup of cheese.
Cook on low for 2 1/2 hours, then serve!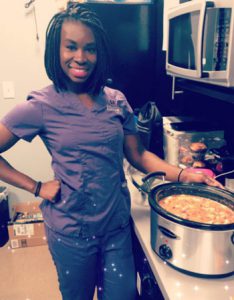 VICTORIA'S ENTRY: CROCKPOT CREAMY TACO CHICKEN CHILI
Ingredients:
• 1 pound boneless skinless chicken breasts or thighs
• 1 can (8 ounces) tomato sauce
• 2 cans (14.5 ounces EACH) chili-ready diced tomatoes• 1 can (4 ounces) diced and fire-roasted green chili peppers
• 1 can (16 ounces) chili beans
• 1 can (15 ounces) kidney beans
• 1 can (15 ounces) corn
• 1 can (15 ounces) black beans
• 1 cup chicken broth or stock
• 1 tablespoon chili powder
• 1/4 teaspoon each: garlic powder, onion powder, dried oregano, crushed red pepper flakes
• 1/2 teaspoon paprika
• 1 and 1/2 teaspoons cumin
• 1 package (8 ounces) cream cheese softened
• Optional add-ins: fresh lime, cheddar cheese, sour cream, guac/avocado, tortilla chips, salt and pepper
Directions:
• Use a 6 quart crockpot for this recipe. You'll want a big one  
• Trim any fat and then place the chicken breasts or thighs whole in the crockpot.
• Add in the tomato sauce, undrained diced tomatoes, green chile peppers, undrained chili beans, drained and rinsed kidney beans, drained corn, drained and rinsed black beans, and chicken broth.
• Add in all the seasonings. Cover and cook on low for 4-6 hours or high for 3-5 hours or until chicken is completely cooked through and easily shreds.
• Remove the chicken from the crockpot, shred it, and set aside.
• Soften and cube the cream cheese and add to the crockpot. Turn the crockpot on high for 30 minutes stirring every 10 or so minutes to help the cheese melt.
• Add the chicken back in and stir until the cream cheese is completely melted. Season with salt and pepper to taste.
• Serve with your favorite "taco" add-in's. I love cheddar cheese, sour cream, and fresh cilantro. Also good is a chopped avocado or a bit of guac and tortilla chips.
DR. CHOPRA'S SUBMISSION: SLOW COOKER PESTO SPINACH LASAGNA RECIPE
The Ingredients – serves 8
1 (26-ounce) jar prepared pasta sauce
1 (10-ounce) box lasagna noodles
1 (11-ounce) container pesto (or make your own!)
1 (15-ounce) container ricotta cheese
1 (12-ounce) bag baby spinach
1 cup grated Parmesan cheese
16 ounces mozzarella cheese, sliced
1/4 cup water
 Dr. Chopra's Tips –
Use organic ingredients when possible
Shred your own cheese to avoid anti-caking agents
Make your own sauce or pesto, or any other healthy substitutions 
The recipe as shown is safe for my nut allergic daughter, but please check the ingredients for your safety.
Relax, since this is a 10-minute prep and you can be free all day as dinner prepares.  
The Directions – Use a 4 or a 6 quart slow cooker.
Put a spoonful of pasta sauce (about 1/4 cup) into the bottom of your cooker and swirl it around. This is your first layer.
Add a layer of uncooked lasagna noodles (you're going to have to break them to make a layer). Smear ricotta cheese and pesto onto the noodles. 
Add a handful or two of baby spinach, and top with a layer of Parmesan and slice mozzarella cheeses. 
Repeat layers until you've run out of ingredients: sauce, noodles, ricotta cheese, spinach, mozzarella cheese, sauce, etc etc etc
The spinach is fluffy, so you're going to have to squish it down to make it all fit.
Before closing the pot, put 1/4 cup of water into the empty pasta sauce jar and close and shake. Pour this saucy water over the top of everything.
Now cover up and cook on low for 6 hours, or on high for about 3 to 4.
You'll know it's done when the top layer begins to brown and the cheese is melted and bubbly. It will also pull a bit away from the sides. Taste-test a noodle to check texture.
Uncover, and let it sit for 10 to 15 minutes before serving.
SALAD DRESSING WARS!
Our office focuses on a healthy lifestyle, so we encouraged each other by participating in Salad Dressing Wars!Our goal for this contest was to promote easy, healthy, and yummy lunches for our staff!Each day a member of our staff brought in their healthy/organic salad dressing and after two weeks we picked a winner. See below for all the great dressing recipes so you can make yourself.
CILANTRO LIME VINAIGRETTE BY MARIELA
CARROT GINGER SALAD DRESSING BY DR. CHOPRA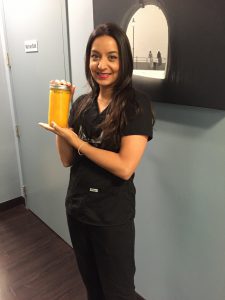 LEMON GARLIC VINAIGRETTE BY MARISSA
PEACH BALSAMIC VANILLA VINAIGRETTE BY MELANIE
GREEN GODDESS DRESSING (MODIFIED) BY DR. TADRISSI